Fishing Calendar
A monthly guide to fishing slower lower Delaware based on 40 years of fishing experience.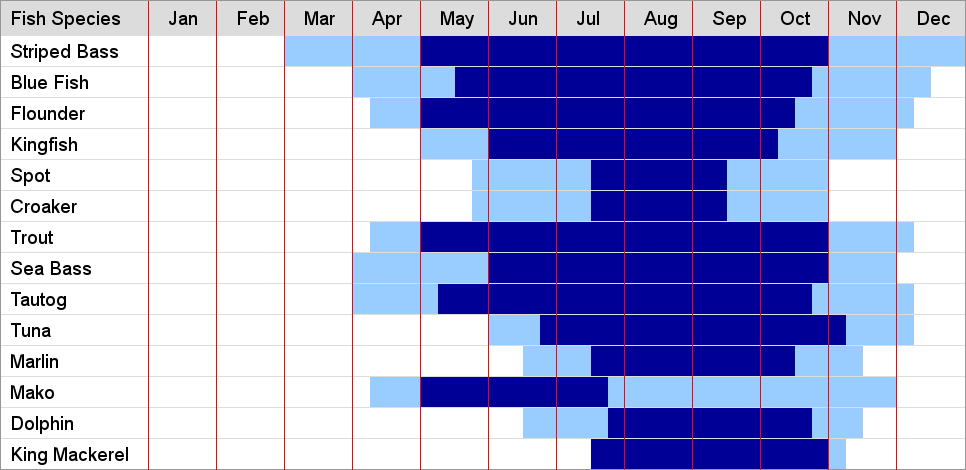 © Copyright 2022 Old Inlet Bait & Tackle
January: Weather permitting, striped bass can be found in the inlet. Mild weather makes the inlet very fishable in the winter.
February: In late February look for perch in the backwaters of the Indian River and Rehoboth bays. Tautog can be found on the wrecks 25 miles offshore.
March: Perch fishing remains good in the backwaters. The tautog move a little closer to shore. Mackerel can be found migrating up the coast. Striped bass move in to the surf (use whole bloodworms). Seabass can be found offshore.
April: The tautog move in to the inlet. Bluefish and blowfish arrive in the surf. Striped bass can be found deep jigging in the inlet. Seabass fishing improves.
May: Bluefish blitz the inlet in time for Mother's Day. Trout show up about a week later. Striped bass fishing picks up in the inlet before Memorial Day. Flounder fishing in the bay gets better. Mako sharks move in mid month.
June: The full moon produces excellent fishing for striped bass and trout in the inlet. Kingfish and croakers arrive in the surf by mid-month. The first tuna of the season is caught no later than the third week of June. Flounder in the bay and out around B-buoy. Tautog and seabass in the inlet.
July: Marlin appear by the second week. Tuna fishing switches over from trolling to chunking by the middle of the month. Striped bass, trout and bluefish are in the inlet. Flounder are in the bay. Tautog and seabass in the inlet.
August: Croaker and flounder fishing is at its best in the bay. A few black drum and red drum appear in the inlet.Striped bass and trout fishing in the inlet is real good at night. Wahoo show up offshore. King and spanish mackerel nearshore. In late August, flounder, seabass, trout and croaker can be found just offshore on the open bottom.
September: Striped bass move on to the surf and remain in the inlet as well. Big flounder move into the mouth of the inlet and offshore. Live bait fishing for trout and striped bass in the inlet is excellent. Long fin tuna can be found offshore. Good Tautog fishing in the inlet.
October: Nearshore bottom fishing is excellent for trout, croakers, and flounder. Surffishing for bluefish, trout and striped bass is the best of the year. Live bait for trout and striped bass in the inlet remains productive. Tuna still good, weather permitting.
November: Surf fishing is good through Thanksgiving, weather permitting. Striped bass fishing in the inlet is good. Tuna still good, weather permitting.
December: Large bluefish and striped bass in the inlet.
Current Bait Availability
| | | | |
| --- | --- | --- | --- |
| Bait | Live | Fresh | Frozen |
| Bloodworms | ✔ | | |
| Bluefish | | | ✔ |
| Bunker | | ✔ | ✔ |
| Clams | | | ✔ |
| Green Crabs | ✔ | | ✔ |
| Mackerel | | | ✔ |
| Minnows | ✔ | | |
| Mullet | | | ✔ |
| Nightcrawlers | ✔ | | |
| Peelers | | | ✔ |
| Sand Fleas | | | ✔ |
| Shiners | | | ✔ |
| Shrimp | | | ✔ |
| Spot | | | ✔ |
Last Updated: 04/14/2022 1:13pm