Upcoming Events
Cast For A Cure - 2021 Team Surf Fishing Tournament
Benefiting the Tunnell Cancer Center Special Needs Fund
Sponsored by: Delaware Fisherwomen and Old Inlet Bait and Tackle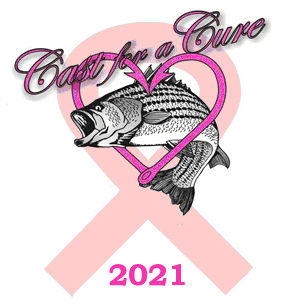 Saturday, May 22, 2021
Registration:
All teams must be registered and the registration fee must be paid in full by May 7, 2021. The team registration fee is $50 per person. The registration fee is Non-Refundable
Teams:
Teams shall consist of no more than four members. At least one member of the team must be at least 21 years old. One member of the team must be designated as the Team Captain and will be responsible for interacting with Judges to score fish. No substitution of team members can be made without the consent of the Tournament Committee.
Tournament Committee:
The tournament committee is comprised of Brandy Timmons (Delaware Fisherwomen), Clark Evans (Old Inlet), Scott Mayhugh and the Head Tournament Judge. All decisions of the Tournament Committee shall be deemed final.
Tournament Headquarters: - Old Inlet Bait and Tackle 302-227-7974. 25012 Coastal Highway, Rehoboth Breach, DE 19971
Licenses:
All team members must possess a valid Delaware Fishing License, as required by law.
4WD Permit:
A valid Delaware Surf Fishing Vehicle Permit is required for all 4WD vehicles on the beach.
Check-In:
All team Captains must check in to pick up tournament packet and score sheets on Friday, May 21 at Old Inlet from 5pm-7pm. Fishing Station assignments will be made at that time. Failure to attend this meeting will result in an automatic disqualification of the team.
Fishing Area:
The fishing area will be located in the Fenwick Island State Park from York Beach Crossing (northernmost) south to the Middle Crossing.
Fishing Stations:
Each Team Captain will receive a list of the fishing stations that they are assigned at the Captains Meeting. In the event that non-tournament anglers already occupy a team's designated station, the team will be moved to an alternate station as designated by the judge on-site.
Fishing Time:
Each team will be responsible to check in with the morning Fishing Station Judge by no later than 7:30 am on Saturday morning. No lines in the water until 8 am. The morning session will take place from 8 am until 11 am. There will be a lunch break and afternoon Fishing Station Check-in with the Judges from 11 am until 12 pm. No lines in the water during the lunch break. The afternoon session will take place from 12 pm until 3 pm.
Equipment:
No more than one rod per team member. No restrictions of line, sinker, or bait.
Beach Rules:
Team members must bait and cast their own rod and remove their own fish. If gaffing is required to beach fish, assistance may be given by another member of that team provided that the fish is fully visible from the beach.

Team Captain's and members are responsible for keeping their lines from drifting into another team's station. Any fish hooked outside the boundaries of the team's designated station will not be scored.

In the event that fighting a fish requires entry into another team's station, that team shall allow the fish to be fought and beach without impediment.

No team or member of any team shall in any way hinder, harass, restrict or otherwise impede other anglers on the beach, including non-tournament persons fishing in a designated station.

Cast nets are prohibited during fishing hours.

Purposefully killing a shark or skate will result in immediate disqualification.

Unsportsmanlike conduct will result in disqualification. A final ruling will be made by the tournament committee

.
Scoring:
The list of eligible species and the minimum size requirements will be provided in each team's tournament packet.
All fish will be measured from the tip of the snout to the tip of the tail. One point per inch. No partial points will be awarded.
Mutilated fish will not be scored.
Judges will be assigned to each tournament fishing station. Only Judges may measure and record the score of the fish. Please do not record your own score.
Release Incentive: Released fish will earn a One Point Release Bonus (Bring a bucket to keep fish alive in until a judge arrives. Place the bucket in front of your truck to let the judge know you have a fish to be scored.)
Once a fish has been measured a section of the tail will be cut off making the fish no longer eligible if the angler chooses to keep fish.
Total points will determine the winners. The first tiebreaker will be awarded to the team catching the most fish. The second tiebreaker will be decided by the length of the largest fish scored by each team.
Score Sheets:
Your team name will be marked on your score sheet. Team Captain's are required to sign the score sheet and turn it into the judge no more than 30 minutes after the conclusion of the Afternoon Fishing Session. Judges will come by their assigned stations to retrieve the score sheets. Unsigned score sheets and incorrect score sheets will result in immediate disqualification.
Foul Weather:
This is a rain or shine event. The tournament will only be canceled in the event of the State Park closing the beaches due to tropical storm/ hurricane or other conditions.
Liability Waiver:
In consideration of the payment of the entry fee, the team members shall waive any and all claims, for an individual team member and their heirs against the Tournament Committee, Judges or sponsors holding the tournament for injury, illness or property damage which may directly or indirectly result from participation in the event.
Calcutta:
A $20 side bet may be waged per team with the proceeds being paid to the wagering team catching the largest qualifying striped bass of the tournament.
A $20 side bet may be wagered per team with the proceeds being paid to the wagering team that catches the largest qualifying bluefish of the tournament.
CALENDAR OF EVENTS:
Friday, May 21
All activities this day will be conducted at the Tournament Headquarters - Old Inlet Bait & Tackle
5:00 pm-7:00 pm: Team Packet Pick Up/Mandatory Team Captain Meeting/ Fishing Station Assignment
Saturday, May 22
7:30 am: Teams Check in with Judges at Assigned Morning Fishing Station
8:00 am-11:00 am: Morning Fishing Session
11:00 am-12:00 pm: Lunch Break and Team Check in with Judges at Assigned Afternoon Fishing Station
12:00 pm-3:00 pm: Afternoon Fishing Session
3:00 pm-3:30 pm: Turn in Score Sheets to Judge
*There will be a photographer coming around taking pictures throughout the day. We would like to get pictures of all the teams for the award ceremony. Pictures will be available for free downloaded for anyone who would like them. Website information will be provided. Thanks!
Sunday, May 23
Awards Ceremony - TBD pending COVID restrictions
PRIZES:
First Place Team: Trophies will be awarded to each individual team member
Second Place Team: Trophies will be awarded to each individual team member
Third Place Team: Trophies will be awarded to each individual team member